Just a friendly reminder that Blake Lively and Ryan Reynolds are most definitely not okay with paparazzi taking pictures of their kids.
This is not news, ofc. Blake and Ryan have always guarded the privacy of their daughters (James 6, Inez, 5, and Betty, 2), and they've done so fiercely. The couple don't share photos of their daughters on social media and very rarely bring them along to public events. They also get very upset when paparazzi follow their family in pursuit of pictures of the girls, which is fair since A. their daughters are not public figures and are entitled to privacy and B. their daughters are small children who are entitled to not be stalked and terrorized by adult strangers.
All of this combined makes it both unsurprising and completely reasonable that Blake slammed an Instagram account this week for sharing paparazzi pictures of her daughters.
"This is so disturbing," Blake commented on the post (per People). "I've personally shared with you that these men stalk and harass my children. And you are still posting. You said you would stop. You personally promised me," she wrote. "This is not casual appreciation. This is YOU also exploiting very young children. Please. Delete. Please. Some parents are ok with this. We. Are. NOT."
After Blake called out the picture, the account removed the post and the actress took to her Instagram Story to thank people who have shown their support for ending the practice of paparazzi taking photos of celebrity's children.
"Thank you to everyone UNFOLLOWING accounts who exploit children. YOU make ALL the difference. Thank you for your integrity. Thank you."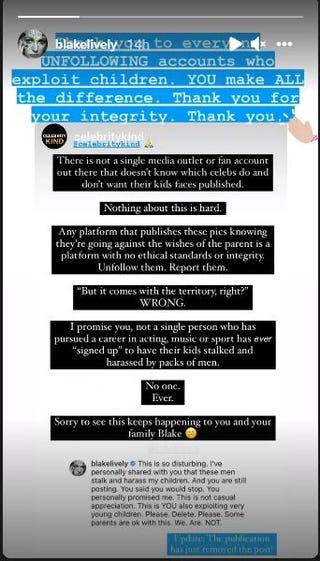 This isn't the first time Blake has spoken out about paparazzi pictures of her kids. In July, she detailed an encounter she and her daughters had with photographers, which she described as "frightening." She shared the story in a comment on a post on the Daily Mail Australia's Instagram, which used pictures from the incident. She wrote:
https://www.instagram.com/p/CRaYEhsNowN/?utm_source=ig_embed&utm_campaign=loading
A post shared by Comments By Celebs (@commentsbycelebs)
For the record, Blake got that photo taken down, too, which is great, but not as great as a world in which she doesn't have to fight to have pictures of her daughters deleted and beg photographers to stop traumatizing them in public. Let's strive for that.
Source: Read Full Article