Bachelor in Paradise is basically over, and considering Cam Ayala left early on in the season after he rudely told Onyeka Ehie that the one guy she liked (Mike Johnson) didn't like her, he's still out here looking for love. And after his birthday this weekend, fans were convinced that he found love with Kirpa Sudick from Colton Underwood's season.
On Sunday, Cam took to Instagram to post about his birthday/ going away party celebrations. He posted a few pictures that included Kirpa and some other peeps and wrote, "10 Year Anniversary of my 21st birthday 😂 👴🏼 🎂 thanks for the incredible weekend and all of the memories Austin, TX 😇🙏🏽 Houston… I'm comin home!"
Kirpa also posted a picture of him giving her a piggy back ride and wrote, "Happy birthday to this gem of a human. so glad you're in my life @camronayala ❤️," which is incredibly sweet, especially considering how most contestants on and fans of the Bachelor franchise are not on Team Cam. Oh, and Cam commented on her post with, "ILYSM @kirpasudick❤️😇."
https://www.instagram.com/p/B2cGNcupVR3/
Once fans saw these posts, they were like, "WAIT THIS IS A THING? DID I MISS SOMETHING?" and "Yes Kirpa! So happy for you and Cam! #teamkirpa."
But when Cam and Kirpa saw their followers freaking out, they denied that they're dating and shut down those rumors so fast. Cam posted a screenshot of an article on his Instagram Stories and wrote, "ER BODY RELAXXX… WE ARE GREAT FRIENDS AND YA, WE'RE PROLLY GOIN TO STAGECOACH TOGETHER NEXT YEAR" with a bunch of emojis.
Okay, noted, but thanks to Blake Horstmann, we all know that lots of Bachelor Nation hookups go down at Stagecoach, so that's an interesting joke for Cam to make.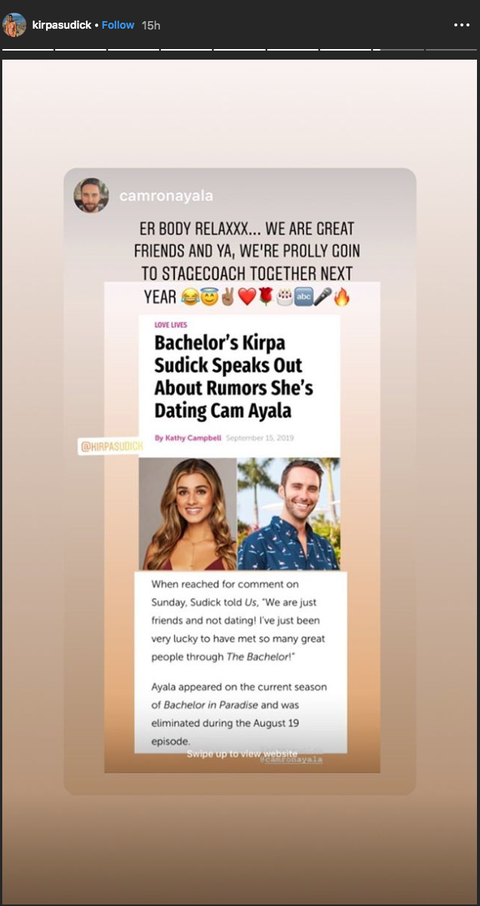 To put the final nail in the coffin that is these Cam-Kirpa rumors, Kirpa told Us Weekly, "We are just friends and not dating! I've just been very lucky to have met so many great people through The Bachelor!"
And Cam echoed that and told Us, "We are strictly friends. She and a couple of others came into Austin, Texas, this weekend for my birthday/going-away party."
So, yeah, nothing to see here.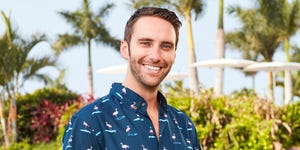 Source: Read Full Article