In a social media post, the MTV personality unveils that her health concerns stemmed from the stress she has endured the past couple of months after her estranged husband filed for divorce.
AceShowbiz –Angelina Pivarnick has been hospitalized. Making use of social media, the "Jersey Shore" star revealed that she is currently "not doing well at all" in hospital amid her nasty divorce from Chris Larangeira.
On Wednesday, April 13, the 35-year-old reality star took to Instagram Story to share that her health concerns had to do with stress over the split. "In the hospital. Please whomever [sic] is calling me and texting me to respond. I'm not doing well at all," she wrote. "I need to get better. My health comes before everything."
In a following post, Angelina posted a short clip of her lying in a hospital bed. She could be seen hooking up to various IVs. She later explained, "My immune systems [sic] been super low from all the stress I've endured the past couple of months."
"I wish this pain on no one in this entire world. I hope this too shall pass and I hope brighter days are ahead of me. Stress is definitely a killer," Angelina continued. The MTV star, who was hit with divorce papers in January, went on to remind her followers that "no one lives in [her] bones" or can "understand the amount of pain [she's] endured lately."
Angelina then claimed that her faith keeps her hopeful. "God has me that's all that matters. There's a light at the end of the tunnel. Soon enough I will see the light. i'm just waiting to see it," she penned. She further elaborated, "I have been keeping prayers and god closer than ever and i know he's got big plans for me. I love you god." She also included a GIF that read, "God keeps every promise."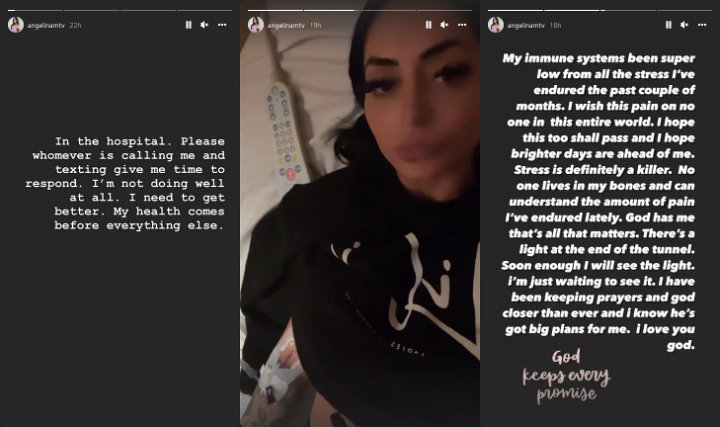 Angelina Pivarnick revealed that she's hospitalized due to 'stress' amid divorce from Chris Larangeira.
Angelina's hospitalization happened just a little over a week following a cryptic post she shared after it's revealed that her estranged husband "cheated with a trans model." Hours after the news broke, Angelina turned to Instagram Story to write, "You attract the energy that you give off. Spread good vibes. Think positively. Enjoy life."
Angelina's ex Chris reportedly filed the motion to end their two years of marriage in Monmouth County, New Jersey in late January. Weeks earlier, Angelina told Page Six that she's trying her best to save their marriage. "I said to myself, 'I am not going to get divorced. I am going to try everything that I can in my power to save my marriage, no matter what it is,' " she said at the time.
Angelina, who tied the knot with Chris in November 2019, initially filed for divorce from him in January 2021. However, the case was dismissed eight months later after the pair reconciled. She later said navigating their marital woes in the public eye was "very hard" on them. "Hard is just an understatement," she shared. "The whole entire thing, since the day he moved out and came back in, it's just been a whirlwind of craziness for both of us."
Source: Read Full Article